This is the Bee Babble for April 1, 2020. A couple of online learning opportunities for beekeepers, free, are available. There will be more. Something about improvised hive stands. We had a Bee Babble Chat at 4 PM today.
Online Courses and Seminar
There is a silver lining to the dark cloud hanging over humanity these days. Bee clubs around the country have been scrambling to complete their educational programs online, and to facilitate their members' meeting. There are some good beekeeping programs available online, via telepresence / webinar systems like Zoom. Here are a couple of opportunities to build up your beekeeping knowledge by hearing from some experts, locally and nationally:
Maryland Bee Squad Webinars
Starting last Wednesday, and every Wednesday for the next few weeks, the University of Maryland Bee Squad (https://www.umdbeesquad.com) will have online classes, for free, via Zoom. Go to: https://umdbeesquad.com/education-opportunities/class-schedule/ to see what is up next, and to register for the webinar.
Stay At Home Beekeeping Series
The Alabama Extension beekeeping team developed the Stay at Home beekeeping series of webinars, with some "rock star" presenters. Given on Thursday evenings at 6:30 PM Central Time (7:30 PM DMV Time), these look like they will be worth watching. All are free. Register at www.aces.edu/go/1196

Topics and Presenters:
April 2: Ten Mistakes Beekeepers Make, Lonnie Funderburg (Alabama Beekeeper)
April 7: Coping with Pesticide Sprays, Jack Rowe (Alabama Extension)
April 16: Learning from Pandemics, Dr. J. Tsuruda (U. of Tennessee)
April 30: Queen Management Essentials, Dr. J. Rangel (Texas A&M)
May 14: Bee and Parasite Biogeography, Dr. K. Delaplane (U. of Georgia)
May 28: What's Killing Honeybees, Dr. J. Ellis (U. of Florida)
Out of Space? Improvise!
My home-made hive stands can hold three full-sized hives if assembled correctly. Unfortunately, none of them were, so I have to move all the bees off each stand to adjust them. Sticking to the "no more than 3 feet or no less than 3 miles" rule for moving hives makes it tricky to empty a hive stand without causing mayhem.
So far this spring, I have made three splits, which has led to more hives than I have hive stand space. What to do?
One solution would be to go out to Home Depot or Lowes and buy material to build more hive stands. Under normal circumstances, I would have bought all the pieces, built a hive stand at my new out yard, asked one of my protegés to join me at 4:00 AM to move the hives, and all would be good. However, I am not going to the hardware box store, or working head-to-head with another beekeeper, until it is safe to do so.
In a pinch, almost anything can become a temporary hive stand. My major criteria are:
Supports the hive at least a foot above grade
Can support the weight of the hive … all the woodenware as well as lots of honey
Flat, level surface, of sufficient size that the hive won't tip or wobble
Easy to move around, easy to clean after use, easy to store
Not expensive, or made from things that you have them lying around anyway
I have made makeshift stands out of bricks or cinder blocks, but they tend to settle. They also do not make a good surface unless you have enough blocks or bricks to make a table. We end up with a screened bottom board into which you can't slide the IPM board in or out. Nothing will ruin your day more than having an open bee hive start to tip over onto you, or onto someone else … along with a bunch of bricks or cinder blocks.
These days, my favorite makeshift hive stand is a pair of hinged totes, the kind that stores use to have their small pegboard items delivered in. Place two of them side-by-side, and you can put a hive lengthwise across the small gap. They get a little bit messy underneath with screened bottom boards. If you have an Imrie shim or a few pieces of scrap wood, you can create an air pocket underneath, which will give some ventilation and a place where you can run a brush or a hose to clean off the surfaces as they get messy.
On Monday, just before Maryland was put on lockdown, I had to make a split and I had no totes. I did have wide plastic "milk crate"-like things that I was using to carry new frames in. Well, they make a nice hive stand in a pickle. Just the right size. They could have been aligned the same way that the totes were too.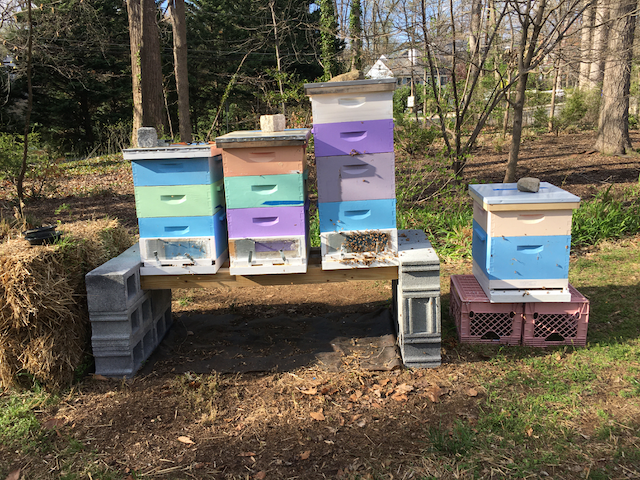 What have you used for a makeshift hive stand?
One tip, that I did not do on this one, is to anticipate that you will be moving that hive at some point, and to place a wrap-around tiedown strap underneath the new hive. This will save you a lot of shaking and angling to get the tiedown strap under the hive later.